Apps for businesses are now big business in themselves. With the field becoming more and more competitive, it has never been more important to make your product stand out from the crowd. Video marketing for B2B Apps is the ideal way to grab the attention of business buyers and increase sales.
Here's what you need to know about video marketing for your B2B App in 2020 and 2021.
Video is the most effective way of communicating your message
Businesses are always looking for ways to communicate their brand messages more effectively to a wide variety of audiences. We recently produced 2 videos for the B2B App AirCast, a sports streaming App that is marketed teams, leagues and major venues.
1. Promotional video
The initial promotional video is a generic sell that includes all the variant business models that the App would excel when paired with. Using action shots of different sports alongside graphic animations, text and music, this video gives an exciting look at what AirCast can do. The video demonstrates in a polished, professional way how AirCast combines the best of all worlds for sports fans, and how it can help venues enhance the spectator experience while providing a potentially lucrative stream of online revenue for the venue.
2. Explainer video
The follow up video gives the viewer a more in-depth demonstration of how AirCast actually works, showing the benefits for the venue and the user by taking a look at the main features of the App. The video is made entirely with animation, with sports venues and crowds shown in mono and the app shown in colour, to make it stand out. The text and voiceover help to explain the features of the App and make the brand more memorable to the viewer by focusing on the logo and the main brand messaging.
These videos serve different purposes but, ultimately, have the same function – helping the App's creators to increase their B2B sales.
Why B2B video marketing works
Video is becoming increasingly popular as a B2B marketing tool. And, it has been proven to be effective – 73 per cent of B2B marketers say that video has a positive impact on their marketing ROI. Here are just a few of the reasons why this is the case.
1. Business decision-makers love video
When it comes to making business decisions, executives are increasingly turning to video to help them make informed choices. Three-quarters of executives now watch work-related videos on business websites at least once a week Further, 52 per cent of business decision-makers head to YouTube weekly to watch videos related to their line of business.
This is because executives genuinely prefer video to any other kind of marketing communication. When given a choice between watching a video or reading text on the same subject, 59 per cent of executives say they would prefer to watch the video.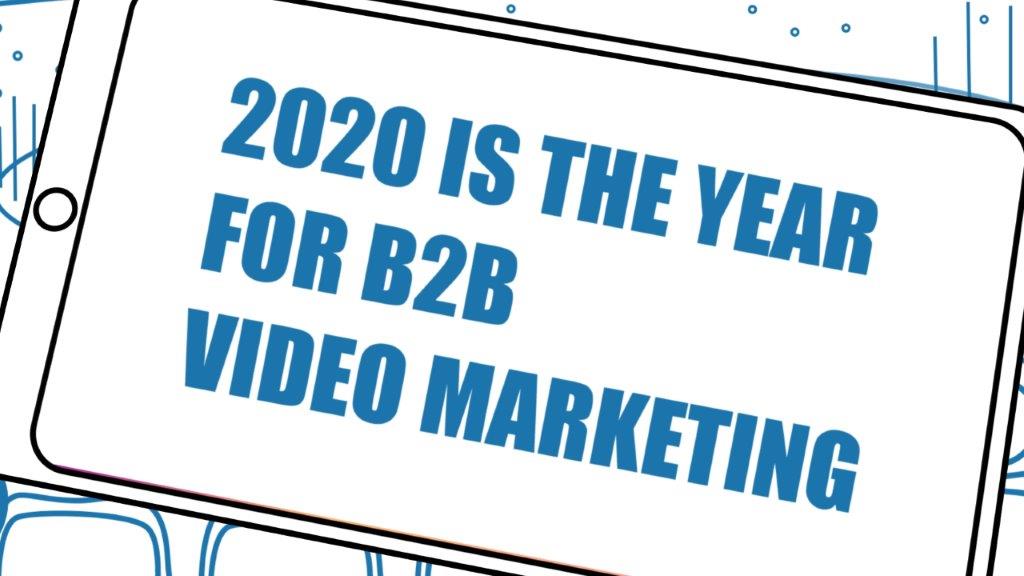 2. Video makes your business more visible
With business decision-makers spending more time online than ever before, you need to make sure your business stands out from the crowd if you want to get noticed. If you include a video on a web page, it makes the page 53 per cent more likely to show up on the first page of search results.
Additionally, if you include a video in a marketing email, this increases the click-through rate for the email by a huge 96 per cent.
3. Video caters for the new business buyers
Video is becoming increasingly important in video marketing because half of all business buyers are now millennials. Video is the medium they prefer. And, as B2B buyers, they go through the same digital processes as a B2C consumer. The average B2B buyer now makes 12 online searches on average when researching new products and services.
It is worth noting that 85 per cent of millennials have purchased a product after watching a promotional video about it online. As B2B buyers' online habits now reflect their behavior as private consumers, video marketing will put you ahead of the game.
Find out more about video marketing for B2B apps
If you are an app creator and you want to sell your app to other businesses, having your promotional videos produced professionally will give you a great advantage over your competitors. If you would like more information and advice about this, please contact us via our home page – our experienced team are always happy to help.