So you've had an amazing promotional video produced and now you want to share it with the world! But, in such an overcrowded online marketplace, how can you make sure your video is reaching the right people? Here we take a look at 14 ways to market a promotional video and target your audience.
1. Upload it to YouTube
YouTube is the go-to platform for everyone who loves video. With 300 hours of video being uploaded to YouTube every single minute, it's essential to make your video stand out from the crowd.
The best way to do this is to include relevant keywords in your title, description and tags. While your title should be short and to-the-point, your description should contain both long-tail and short-tail keywords, as well as being detailed and accurate, as this is how YouTube decides how to rank your video.
It's also worth setting up a dedicated YouTube channel for your brand so people can follow you – that way they'll find your videos more easily. The more subscribers you get, the higher your videos will rank in YouTube search results.
2. Add it to your website's home page or landing pages
The content of your video will dictate where it fits best on your website. If it's a general company overview, it should be included on your Home page. Doing this can increase your click-through rate by 30 percent as users love to see a human welcome from the people behind the products.
However, if your video is about a specific product, or has been made for a specific advertising campaign, it should only be used on relevant landing pages. Including video will make your landing page 53 percent more likely to show up on the first page of Google search results.  Including your video somewhere on your website is pretty essential as users spend 88 percent longer on websites that include video – that's a lot more time for your brand message to sink in!
3. Post it on all your social media accounts
When you're trying to promote your brand, it's important not to forget about your personal connections, who can be a great asset when it comes to boosting your profile. This is why you should post your video on all your personal social media accounts. It's worth remembering that over 90 percent of people trust recommendations from people they know when it comes to making purchase decisions.
4. Pin it on Facebook and Twitter
Obviously you want your promotional video to receive as much attention as possible on social media, which is why pinning it to your Twitter profile and your Facebook business page is an excellent idea. Your video will then be the first thing that visitors to your pages will see. Placing your video on your social platforms is a great way of explaining what your business is all about and encouraging people to engage with you.
On Twitter, pinning a tweet can triple the engagement it would have had without being pinned, particularly if its content is visual.
5. Include it on your LinkedIn profile
This is a particularly valuable strategy if you rely on B2B sales – business executives rate LinkedIn as the most useful content platform, and it accounts for 80 percent of B2B sales driven by social media.
Video posts receive particularly high engagement on LinkedIn and can increase your share rate by up to 75 percent, establishing you as a prominent voice in your industry.
6. Add it to all your social media groups and communities
Sharing quality content with your groups and communities on social media establishes you as a thought leader in your field, as well as boosting the profile of your brand as other group members engage with your posts.
This is why groups and communities on Facebook, LinkedIn, Google+ and Reddit are ideal platforms for your promotional video – visual content is shared over 40 times more on social media than any other type of post.
7. Ask friends and contacts to like and share it
This may seem obvious, but it's an important step that shouldn't be overlooked. Businesses gain popularity on social media through the concept of social proof – if someone's friends are talking about or buying into a particular product or service, that person will also want to find out what it's all about. If all your contacts like and share your video, it will generate interest in your brand from their contacts in turn – 69 percent of social media users would be more likely to watch a video ad that one of their friends had shared.
8. Use it in a Facebook advertising campaign
A huge 92 percent of social media marketers are now using Facebook for advertising. With approximately 2 billion users, Facebook is by far the leading social media platform and therefore the one to target when you're promoting your video online. However, posting organically (free) on your Facebook page is simply not enough anymore. Organic reach is dropping all the time – you can now only expect organic posts to be seen by between two and five percent of your followers.
This is why it's worth paying to boost the reach of your video on Facebook – how many people you can reach depends on how much you want to pay, which is obviously determined by your marketing budget.
9. Create closed captions or subtitles
Captions can provide a massive boost to your video's SEO. As search engines can't watch videos, they index your video based on the text descriptions that are provided with it. Adding captions provides them with a complete transcript of your video, so they can easily judge its relevance – consequently it will be ranked higher in search results. Research shows that adding captions can increase organic views by up to 40 percent.
Adding closed captions or subtitles to a video on Facebook has been shown to increase its watch time by 12 percent – this is because 85 percent of Facebook videos are watched with the sound off. Viewers are much more likely to engage with your video if it can just as easily be understood with or without sound. You can easily add captions to your video once you've uploaded it to Facebook.
10. Create an engaging thumbnail
Your thumbnail has a direct impact on the number of views your video will get online. In one image, it has to give viewers an idea of what the video is about and interest them enough to click on it. It can also be highly useful in increasing awareness of your brand, especially if you choose to include a logo on your video thumbnails.
Creating engaging thumbnails has been shows to increase video views on YouTube by up to 154 percent. Research also shows video thumbnails improve email click-through rates by an average of 21.5 percent when compared to regular images.
The trick to creating an engaging thumbnail is to make it stand out from the crowd. Choose a clear image – faces and action shots tend to work well – and make good use of colour. If your competitors are all using similar colours to each other, make your thumbnail stand out by choosing an image that contrasts with them.
11. Make use of Share buttons
One of the best ways to encourage audience interaction with your video is to add social share buttons. This means that no matter which platform they end up viewing your video on, they have the option of sharing it – and they're more likely to do so if there's a button there to make it easy for them. Users don't have time to bother copying and pasting your URL, no matter how much they like your content.
The easier it is for users to share your video, the more views it's likely to get – which boosts your brand profile and helps your SEO. Adding share buttons on or directly underneath your video player makes it instinctive for users to know how to share your video.
12. Use your video in email marketing
Video is increasingly being used in email marketing, and with good reason. Including the word "video" in the subject heading of your email has been shown to improve open rates by 19 percent and click through rates by 65 percent. If you send an initial email containing a video, click through rates soar by a huge 96 percent.
This is because many people find it easier to engage with a video than with other forms of content. Four times as many people would prefer to watch a video than read text on the same topic, making video the ideal format for email.
13. Add it to your profile on business directories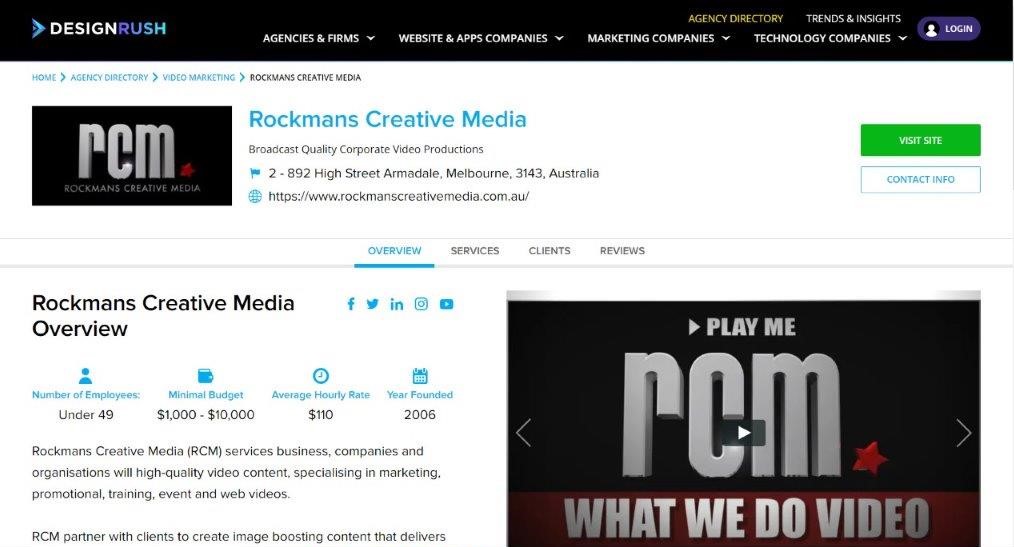 The more information you include in your online business directory listings, the more easily customers can discern what you do and how useful you're likely to be to them. This improves your click-through rate – and video is particularly effective for this, as it can give users a real feel for your business by letting them see behind the scenes or showing your workforce in action. The above image is one of our business profile directory listings, we are recognised as a top Video Production Company on DesignRush and have included 2 videos.
The more users click on your listings, this is not only excellent news for your business – it also improves SEO, which means your business will be more visible to organic searchers too.
There are many ways in which a video can improve your business success – knowing how to promote it is key to making it work effectively for you.
14. Use it as a Call to Action in Radio and TV Ads
Include your video in your call to action on radio and TV commercials e.g. "for more information watch our video on our home page at www.ourwebsite.com.au. Commercials are of limited duration so can only give limited information but they do come with large audiences, this is a great opportunity to direct them to see more about your products or services in your longer and more informative video. In Melbourne and on 3AW we are hearing many businesses use this strategy.
If you liked this post, please share it via the social media buttons below…and for more information on us, Rockmans Creative Media, visit our home page.