Press Play to Watch Our Vlog on Portable Green Screens!
What You'll Discover in This Post
Welcome to another edition of RCM's Video Production Tips, Hints and Information.
In this edition you're going to find out about the incredibly handy portable green screen studios…what they are, how they work and some of their cool benefits.
What is a Green Screen?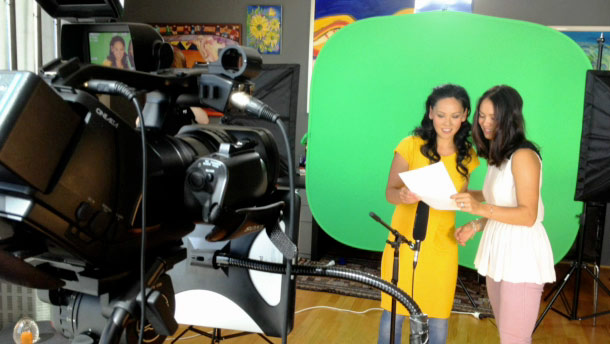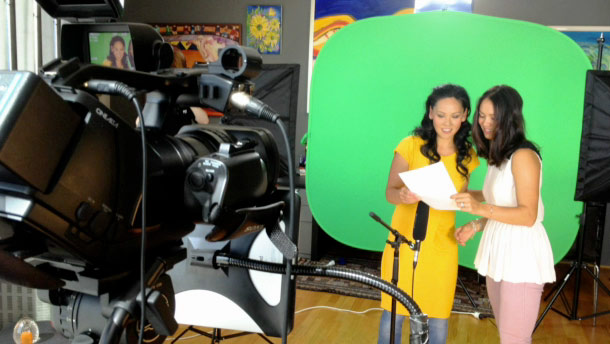 Chances are you see them in use every evening during weather segments on the news or in commercials or any time they use special effects in  blockbuster Hollywood films.  They are exactly what the name says,  it's a screen that is green…no industry jargon, nothing esoteric…it's a screen coloured green!…it can be painted on a studio wall, on cardboard or material as long as the green is consistent and well lit.
How Does it Work?
Once the green screen is set up, a person or product can be placed in front of the screen and then recorded.  In a post-production edit suite, we then simply replace all the green in shot with anything…a live shot, an image, photo, graphic animation…anything!
It's called  Keying Out and Keying In.
"Hmmmm.. " I hear you say,
"….but what if my product is green? Or what if the person being recorded needs to be wearing green?
Say it's Peter Pan, Kermit the frog or more likely your CEO with their colour branded corporate green tie on?"
Well if we recorded them in front of the green screen and then replace all the green in shot, their tie would contain the background and frankly they would look really silly…so in that case we would use a blue screen instead – we just use green as a first preference because it tends to be the easiest colour to Key out and works better with most skin tones.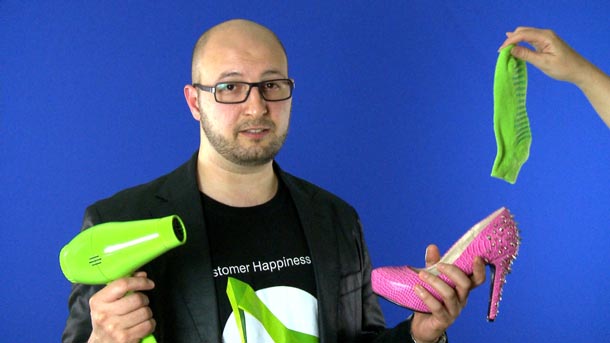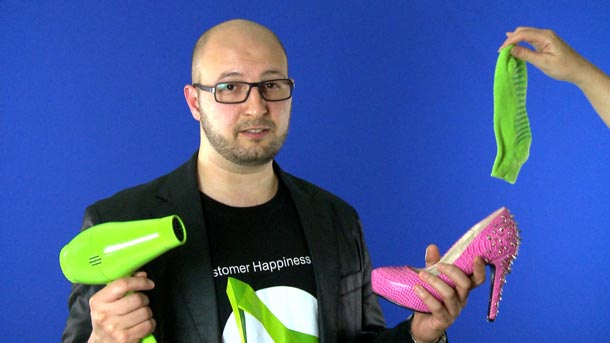 What are the Benefits of Portable Green Screens?
Before the invention of these portable versions, green screens were really only found in Television and Film studios and that meant very expensive hire costs and a locked in location.
With portable green screens there are many benefits;
Very low hire costs – it's around the 10th of the price,
Flexibility – A location of your choosing- Large TV studios can be intimidating, but an environment that you're comfortable with, like your boardroom often leads to a better, more natural performance.
The speed and ease of recording;
Easy to set up and if filmed at your premises, there's no more travel time!
Case Study One: 1300 Australia.
Let's look at 2 case studies using RCM clients.
The first is with 1300Australia, their CEO Gavin Scholes wanted to do 4 short web videos, but being a very busy man, his time was very limited.
So we brought our portable green screen studio to their headquarters.  Once we had setup in their boardroom, Gavin came in and did his lines to camera…it was all over in 20 minutes and that allowed Gavin to go back to his regular business.
RCM created a logo animation to open and close the videos with, as well as a background animation and that background animation replaced the green in shot.
The videos were fast, cost effective and were of studio quality…Gavin and all his staff were happy with the result.
Case Study Two: Monarch Institute.
The second case study is for Monarch Institute, a financial education and certification organisation.
Monarch Institute needed 7 promotional videos, featuring students past and present, teachers as well as management – which added up to a whole bunch of people needing to be on camera.  We set up our portable green screen studio on campus and throughout the day brought in each person that needed to be in front of the camera. The process was fluent and easy with a timetable that suited all.
Again we created a logo animation for the openers and closers, but this time instead of a graphic background, we used a live shot for the background, and we're pleased to say that the look was very well received.
What do you think? – Let us know in the comments below.
Before portable green screen studios, the production would have been very expensive, not to mention that the logistics of transporting each person to the studio and back to campus would have been a nightmare.
In both these case studies the green screen provided logo presence and colour branding to be on screen during the entire duration of the videos, it was quick and easy for the clients but it also gave a virtual location that was far better than the clients could supply.
Rockmans Creative Media's Portable Green Screen.
RCMs portable green screen is large enough for ¾ body shots and has one side blue and the other side green.
The set up takes less than an hour and can be used in any space that can provide room for separation between the green screen and the subject and separation between the subject and the camera.
Want to see some more green screen video samples? We've added some more for you below!
I hope this information was useful and of course if you need further advice contact us on;
Melbourne 9500 0053.
Till next time….that a wrap!