The current lockdown due to the coronavirus is a difficult time for a lot of businesses. But, it's vitally important not to let your brand be forgotten. Things will get back to normal sooner or later, and it's important that audiences old and new are aware of your brand when they do. This will help your brand thrive into the future.
Branding videos should be an integral part of your marketing strategy during the lockdown as they have the capacity to raise awareness of your brand while keeping people entertained and informed. Here are some of our top tips for making sure your branded videos stand out from the crowd.
1. Make your videos memorable and sharable
As the vast majority of people are currently at home all the time, they are spending more time on social media. This offers you a great opportunity to get your brand message out to audiences. Don't worry too much about the quality of your lockdown videos – audiences understand that you are at home just like them, so your videos don't need to be high-end.
You do need to make your videos memorable and sharable. It's worth remembering that 76 per cent of people will share branded videos on social media if they find them entertaining.
You don't need a large budget, actors or locations to make an entertaining video! The videos we've included here were made by our MD, Josh Rockman, at home during the lockdown. If you do have a video budget, though, it is worth brainstorming with a professional video production company for help with ideas on effective video content creation.
Here's Josh playing around with stop motion. The video features old production lights, Josh's hat and records, all animating.

2. Videos need to match your image and your brand
If you want people to remember your brand, you have to help them do this through association with your video. This means your video content has to be relevant to what you do. For example, an accounting firm might do videos explaining Job-Seeker/Job-Keeper etc. An Aged Care provider might do videos on how to connect via technology…and you may have seen the COLES What's for Dinner videos on YouTube or TV where a celebrity takes you through a recipe in their home kitchen.
Whatever your business does, it is important that your videos suit your brand image.
3. Don't use overly promotional content
This might seem tricky in comparison to the previous point, but it is important that your branded videos aren't trying to sell anything directly to your audience. Your content shouldn't be too explicitly promotional. With the RCM video below, the only reference to our brand is the company logo displayed on the TV screen at the back of the room and in the final logo animation. This video is from a set of 8 that Josh created.
QUARANTINE LIFE – FUNNY CREATIVE STAY AT HOME VIDEO – Episode 1

Your branded videos are designed to be shared on social media to boost awareness of, and engagement with, your brand. This isn't advertising, which is designed to sell a specific product – it's content marketing, which builds awareness of your brand by offering people interesting and engaging content. This encourages people to find out more about your company.
If you make your branded video too promotional, this will discourage audiences who don't want to be sold anything, especially during the lockdown.
4. Use hashtags well
At the end of each of our videos, we have included four hashtags: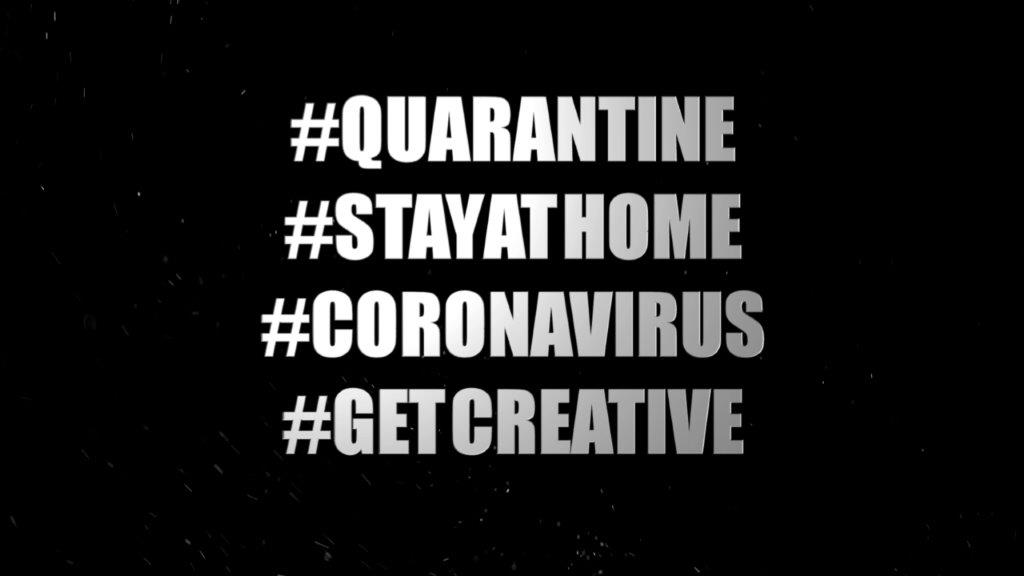 Hashtags are extremely important when it comes to getting discovered by your target audience on social media. On Twitter, users often search for hashtags that are trending – for example, at the moment #quarantine and #coronavirus are constantly trending everywhere! If you use relevant hashtags, users will discover your videos when they click on these hashtags as your content will appear.
On Instagram, users can follow hashtags they're interested in, the same way they can follow individual accounts. A hashtag such as #getcreative will appeal to a wide variety of people, especially during the lockdown! This helps them to discover your content and possibly even follow your account.
The trick to using hashtags well is to keep them relevant and memorable. Try to use hashtags that already exist, and keep them relatively short. Also, try not to use too many hashtags in each post – it is better to stick to four or five rather than spamming your followers with huge lists of hashtags.
5. Entertain, inform or educate
The most important thing to remember is that your branded videos need to be engaging! We have gone for a purely entertaining theme in our lockdown videos. However, if you don't want to go for straight entertainment, it's also fine to make educational or informative videos. You could also consider offering tips for your audience to keep your brand relevant.
If your videos are engaging, they will appeal to curious minds and make your brand more memorable to viewers. They might even decide to share your content, too!
If you would like any more information about making engaging branded videos, please contact us. Our specialist team are always happy to help…and if you would like to view the remaining 7 videos Josh created, we have them all below.
QUARANTINE LIFE – FUNNY CREATIVE STAY AT HOME VIDEO – Episode 2

QUARANTINE LIFE – FUNNY CREATIVE STAY AT HOME VIDEO – Episode 3

QUARANTINE LIFE – FUNNY CREATIVE STAY AT HOME VIDEO – Episode 4

QUARANTINE LIFE – FUNNY CREATIVE STAY AT HOME VIDEO – Episode 5

QUARANTINE LIFE – FUNNY CREATIVE STAY AT HOME VIDEO – Episode 6

QUARANTINE LIFE – FUNNY CREATIVE STAY AT HOME VIDEO – Episode 7

QUARANTINE LIFE – FUNNY CREATIVE STAY AT HOME VIDEO – Episode 8 (Final)

Hay, you watched them all, thanks!