The current climate is unlike anything we have ever known before. The impact of the Coronavirus outbreak is being felt all around the world, with many countries now on lockdown. This has had a huge impact on businesses across all industries.
However, not all businesses are closed, or even suffering downturns. Essential businesses such as petrol stations, supermarkets, chemists and pet supply stores are currently seeing a vastly increased demand for their services. Some retail and online stores such as toy and hobby shops, gym equipment supplies, hardware stores and book shops are also in high demand. Many manufacturing companies are also still running, some of which are now producing essential goods for frontline health workers.
These businesses, and the many others operating from home work spaces, still need to market their services to the public. Whether aiming at a local, national or international audience, video is the most effective way of marketing your business. This is because it is such a versatile medium – it can be used on your website and your social media pages, as well as web advertising such as Google AdWords.
Including video in your online marketing helps you to rank more highly in search results, ensuring that people can find you in the current crisis. But, with social distancing being practiced everywhere for the good of our health, how can we continue to produce videos, which usually rely on contact between people? This is the true versatility of video. Here are five ways we can produce high-end promotional marketing videos without being onsite for a production shoot.

1. Use animation/motion graphics
You don't need live action footage to make a compelling video. This video for Access HQ has been produced entirely using animation and motion graphics. The video uses a combination of animation, still images and quotes to put across all the essential information.
Combined with a voiceover and background music, this creates an engaging narrative without having to use a single live action shot.

2. Use library stock vision
Not all footage is shot live! In this video we produced for Fortress Financial Group, you can see that the graphics are combined with footage from a stock site. This is an extremely powerful way of constructing an engaging story.
There is stock footage available for practically every mood, situation and setting. Using this footage, interspersed with your brand messaging, as seen here, enables you to have live action in your video without any need for people to be in the same room – no live filming is required.

3. Use library stock images (or your existing photos)
It is possible to create a compelling video without using moving footage at all. Photographs can be an extremely effective way of getting a message across. If you have the right photographs of a high enough quality that we can use to tell the story of your brand, we can easily incorporate them into a video. However, if you don't feel your own photographs are good enough, there are plenty to choose from on stock image sites. Our talented team can always find exactly the right images to convey the right messaging and mood.

4. Use existing vision from videos you have
In the era of recycling and upcycling, video is not being left behind! In the current climate, where you can't meet to make a new video, you might have the answers hiding in plain sight within videos that have previously been produced for your company.
Take this example of a video we produced for RMS. We used a combination of footage we had previously shot for the company, alongside some stock footage to create a brand-new video. Combined with a voiceover, graphics and background music, these clips can be linked together seamlessly to tell a cohesive story.

5. Turn a PowerPoint into a hosted video presentation
PowerPoint presentations work – that is why they are a staple of the meeting room! They help your audience to understand key information, and they make your messaging memorable. So, why not turn your best PowerPoints into hosted video presentations?
We created this video for Premier Contact Point using exactly this technique. A live action presenter speaks alongside a screen showing PowerPoint slides. This brings your presentation to life and enables your message to be seen by a much wider audience.

Find out more about video production without human contact
These are unprecedented times, and we can't meet face to face with clients at the moment. Luckily, we don't need to – all correspondence between you and Rockmans Creative Media, or your Corporate Video Company can be done remotely online!
Of course, if you need us to come onsite for a production shoot, we can absolutely do best practice for health and safety.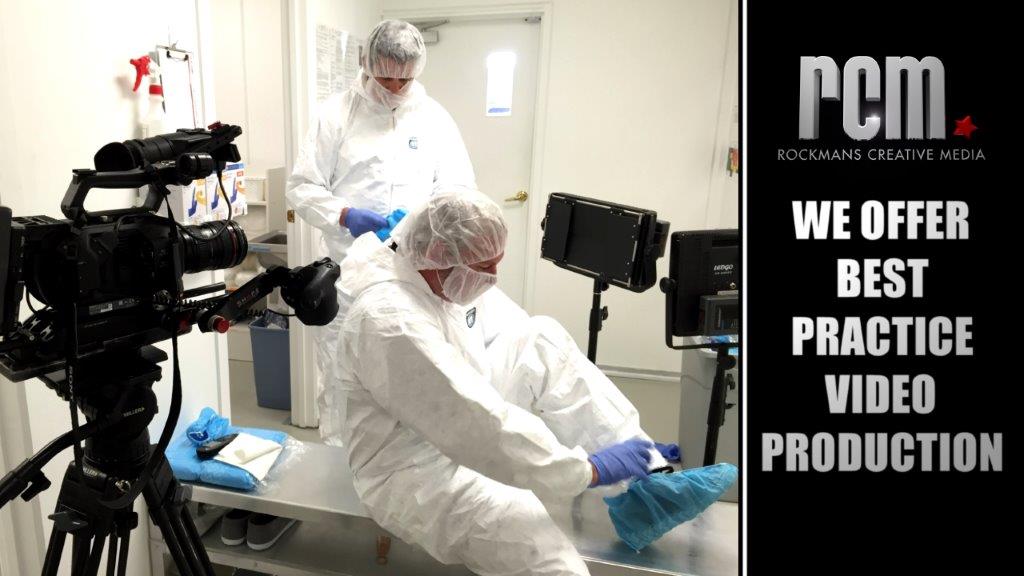 If you would like to find out more about having a top-quality video professionally produced for your business during the COVID-19 lockdown, please contact us. Our team will be happy to help.