It's vital to make corporate videos more engaging in 2021, engaging the viewer throughout a corporate video means you can be assured they hear all intended messages without distraction, as well as reach the all-important call to action details at the end. Poorly made or boring videos won't engage the viewer and messages and intended information may get lost, not to mention you may not get your ROI.
Some of our top ten list in this post require bigger bottom lines, some just pre-thought and planning, and some are simple things your corporate video editor can do on the fly. So, in no particular order here are our 10 top tips and tools to make corporate videos more engaging in 2021. For each tip we included a video that demonstrates the results.
1. Seldom seen angles
From great heights you get a perspective that is rarely seen. Camera drones and jimmy jib cranes offer visual treats that make corporate videos more engaging by tenfold. Drones give the bird's eye view and can follow the action from the sky.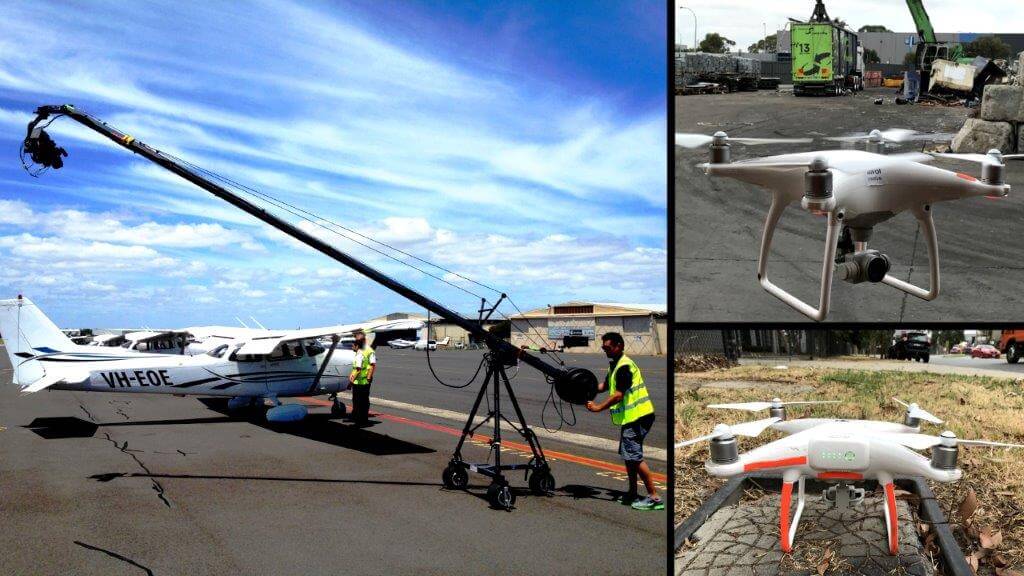 A Jimmy jib delivers smooth and sensational sweeping movement and can also reach great heights. The camera on the Jimmy Jib is remotely controlled and can pan, tilt and swivel 360, while the jib arm can be moved in any direction, and unlike a drone, can come to a stop. Hollywood LOVES both these production tools but the Jimmy Jib is favoured as it's more controllable.
Here's a 35 second video that first shows drone footage then shots taken from a Jimmy Jib.

2. Camera movement
Steadicams, dolly-and-tracks and sliders give smooth movement. A Steadicam or a camera on a dolly can be used for engaging shots that last, this is because the shot constantly reveals more of the subject as the camera travels through or past. A Steadicam has the advantage of not being on tracks so is the preferred tool, but it's also the more expensive option.
In this 50 second video we first show a long duration shot from a Steadicam then various dolly shots.

3. Clever concepts and humour
A clever concept can not only be engaging but memorable and sharable! This is the same for humour. Professional brands shouldn't be afraid to use these techniques in their corporate videos. The really big brands know the power of funny, just think about all those Super Bowl commercials…9 out 10 use humour, so if it works for commercials why not corporate videos?
During the 2020 Melbourne lockdowns our MD Josh Rockman was home alone with a creative running mind. He dug up some old production equipment and created a series of short branding videos using nothing but a concept and what he calls "humour".  There were 8 videos created in the series as well as a stop motion video. You can view the entire series here and the first one is below.

4. Colour Flares
Ohh ahh, that looks pretty! Using colour flares can bring dull vision to life and make good shots great.  When using animated flares, you also add more action to a shot as well giving it more colour. Colour flares add light, movement, pizazz and more excitement to any shot. They deliver sizzle to vision and work great with shots that require something more than a real-life look.
Here's a 30 second video showing shots without colour flares then the same shot with colour flares.

5. Logo animations
Why do movie studios use them? Because they want to look successful and familiar. Logo animations aren't expensive but deliver a high-end message. They say that a brand is worth more, that they value who they are and they are worthy of the attention. A logo animation delivers a sense of pride and confidence, they also say "this brand is established"! Opening a corporate video with a logo animation starts engaging the viewer from the get-go.
You can view 14 logo animations back-to-back in the below video.

6. Graphics
This is big and broad topic that has endless options and applications. Animations and motion graphics and can cover anything from animating graphs, 3D product renders, animating visual explainer sections, cool overlay effects… the list is endless. A talented Graphic Designer can make any corporate video more engaging but this, as mentioned in the opening paragraph may require bigger budgets and pre thought planning.
This 45 second video features 3D and 2D animations and animating graphs.

7. Short vision montages
Using 3 or 4 shots that capture who you are and what you do at the very start of a video is a great way of setting the scene for what's to come. It tells a story quickly and simply. Using brief vision montages throughout the video also lets the overall story breath and is a great way of changing topics. Vision montages should have no audio except music…it's remarkably engaging to stop the voice over or interview for a 10 second vision montage.
In this example (full video for Sunshine Creek Winery – Polo Team) you can see vision montages at the start and included with 2 music changes as the video progresses.

8. Ramping vision
Editors love this effect because it looks so cool and is easy to do. Take a shot, slow it down then BAM hit the accelerator are have it speed up half way through. This is super engaging to watch and delivers a similar emotion to a roller coaster effect. Editors can go from slow to fast, from fast to slow or speed up/slow down a section in-between.
So you see the effect in action, here's a 30 second video with a few shots we have ramped.

9. Fast editing
When the music is right, when the message calls for it and when the shots are there, fast editing can be a rush to watch…not too fast or it's overwhelming and confusing. Fast editing can be very engaging as it is done to the beat and allows the viewer to pre-empt what's coming up.
In this 30 second video we used fast editing, ramping and colour flares for a super quick and engaging video.

10. Using text in clever ways
Having text over vision can be hard to read but with pre planning you can shoot for cool text positioning. The below example video that shows text siting and animating on kitchen benchtops. If your corporate video company has a good graphics team, they can place text to come on and off in clever ways…this can be very engaging. Think about opening credits on movies, sometimes they're better than the actual movie, the way text is used needs to be well designed but also legible.

We hope these tips start a conversation with your production team to help make your next corporate video more engaging in 2021 and beyond. If you liked this post please share via the social links at the op of the page and for more great posts visit out main blog page here.