Paul Bangay Garden Design Featuring Stonefields
An intimate Glimpse into the Landscaping mind of Paul Bangay and the world famous Gardens at Stonefields
RCM's "Creative Stories" are artist focused mini documentaries that are inspirational and informative. They are a powerful tool for self-promotion and can be a great asset to artists of all kind.
Why Commission a "Creative Stories" Video?
Appreciation comes from understanding; your background, your inspirations, your processes and the stories behind your art all build a strong connection for the viewer. "Once I understood the process of your work I could really appreciate what I was seeing."
Debbie Sheezel Enamelist Jeweller
What to Do With Your "Creative Stories" Video?
A video gives you multiple promotional uses. Leading up to the production shoot you can Tweet and post on Facebook your anticipation for the shoot. On the day you can take photos and post them on your social media pages. On completion you can upload your video to multiple destinations such as your website, You Tube, Vimeo and other video sharing sites and art forums. The video can be used to promote upcoming exhibitions and can play at those exhibitions. And a video can be there for generations of your family to appreciate.
Frances Russo Mosaic Artist
What is the Production Process?
A good documentary is not scripted or contrived. RCM have key questions to ask you that span where your passion for art began, where you find inspiration, why you do what you do and your future pathway moving forward. We don't want you to talk from the head, rather from the heart so we recommend you do not see the questions pre interview. Additional questions can be added to prompt required answers. The production shoot takes 2 to 4 hours in total. On the day we will arrive at your studio and take 45 minutes to set up our equipment. The interview will take around 30 minutes and we will then capture vision of you working. Using the interview, vision of you working and photos of your final pieces we begin our creative process and edit your video to complementing music.
Damian Vick Sculptor
What You Receive
RCM will deliver your final video within 8 working days from the production shoot. We will supply you with video files in high definition and compressed formats. You can use the video files on-line, as well as adding it to your iPhone/iPad and android devices. Files supplied will be .wmv, .mp4 and .mov
RCM are offering artists great prices for broadcast quality productions. This includes concept, Director, Camera Operator, High Definition camera equipment, lighting kits, mics, monitors, Editors, edit suites, music license and outputs. The total price is $3,300 including GST.
Please note, we will require at least 15 high-res images of your work supplied as jpeg files, your studio to shoot in and 3 hours of production time.
Contact RCM today on 03 9500 0053 to discuss your Creative Story!

Who is the Creative Behind "Creative Stories?"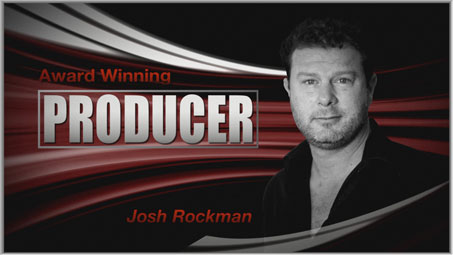 Josh Rockman began his television career in 1989 at Southern Cross Network Bendigo. Since then Josh has been the Senior Promo Producer at Channel Seven Melbourne, Creative Director at The Comedy Channel and Creative Director at Main Event. After 18 years of television experience Josh started Rockmans Creative Media, a video production company based in Melbourne. Josh has produced and directed international talent across multiple demographics and has received one international and two Australian Promax Awards. Josh has a strong passion for directing and editing and is determined to produce quality content that is engaging plus original.